LANGUAGE OF THE BODY
Paris, France
This workshop focuses on expanding our range of embodied movement as a way to enhance creativity,
expressive potential, communication, and physical functionality. Through various movement activities
including improvisation, somatic attunement, (re)discovery of movement patterns, partnered exchange
and playful group interaction, participants will be guided in exploring the four basic categories of movement
in Laban Movement Analysis: Body, Effort, Space and Shape. Our first workshop was a collaboration with
studio L'Air Ivre in Paris in collaboration with Aurélie Delarue.


SOMA-CITY ROUNDTABLE
Montreuil, France
As part of our Soma-City residency at Theatrum Mundi, on December 11, 2019 Sandlos and Tang facilitated
an informal day of movement and discussion in the studio of architect Chantal Dugave bringing together
collaborators from Theatrum Mundi's team and network to test and reflect on ways somatic thinking could be
used to address critical questions in architecture and urbanism. Read a reflection essay by Elahe Karimnia on the
activities of the day.


CHOREOGRAPHIC CONSTRUCTIONS IN THE COMMONS
Northwestern University, Evanston, Illinois
Choreographic Constructions is an interdisciplinary workshop that invites participants to interact with other
dancing bodies and with the built and natural elements of public commons. A commons is a space tha belongs
to a whole community. In urban centres, a commons often offer opportunities for relaxation, leisure and social
encounter to people from all walks of life. As much as they can be harmonious, commons can also be highly
charged spaces where differences can be openly discussed and debated and where political activism has
historically occurred. Whether difference is being celebrated or sparkin conflict, a commons is often rich with
human movement expression ranging from full-body physicality to subtle gestures or miniscule facial expressions.
Parks, plazas and iconic features in city landscapes are defined not only by their spatial forms but also by people
interacting and moving around them. Thus human movement enlivens and affects the character o the commons.
Working with this understanding, our workshop promote awareness of how the act of dancing in a shared public
space can positively shape our relationships with the environment, with eac other and with ourselves. Drawing from
the varied backgrounds of the workshop leaders, dance improvisation and principles of Laban Movemen Analysis will
be used in connection with urban and landscape design concepts, inviting the possibility for discovering points of
convergence within an interdisciplinary framework.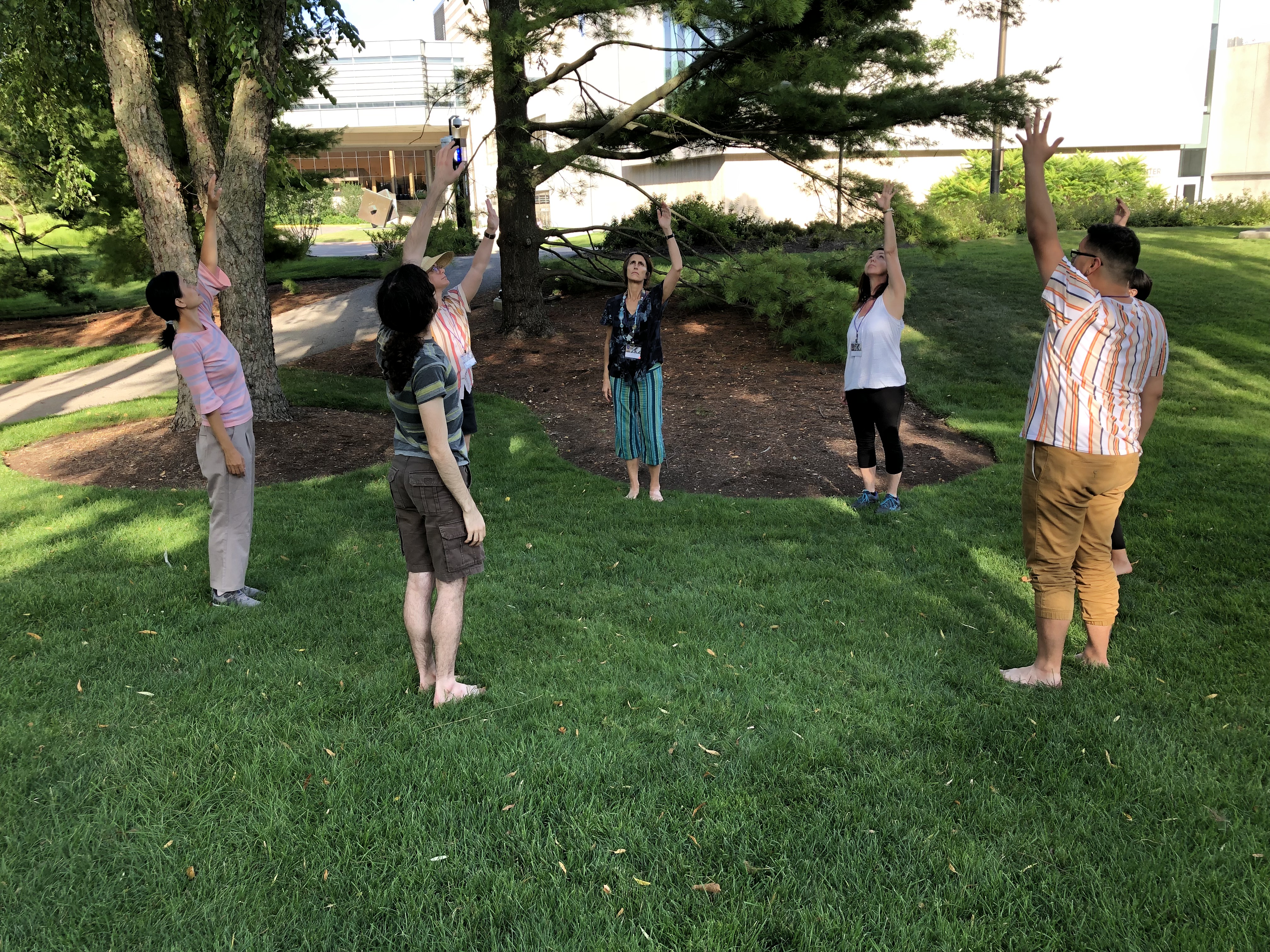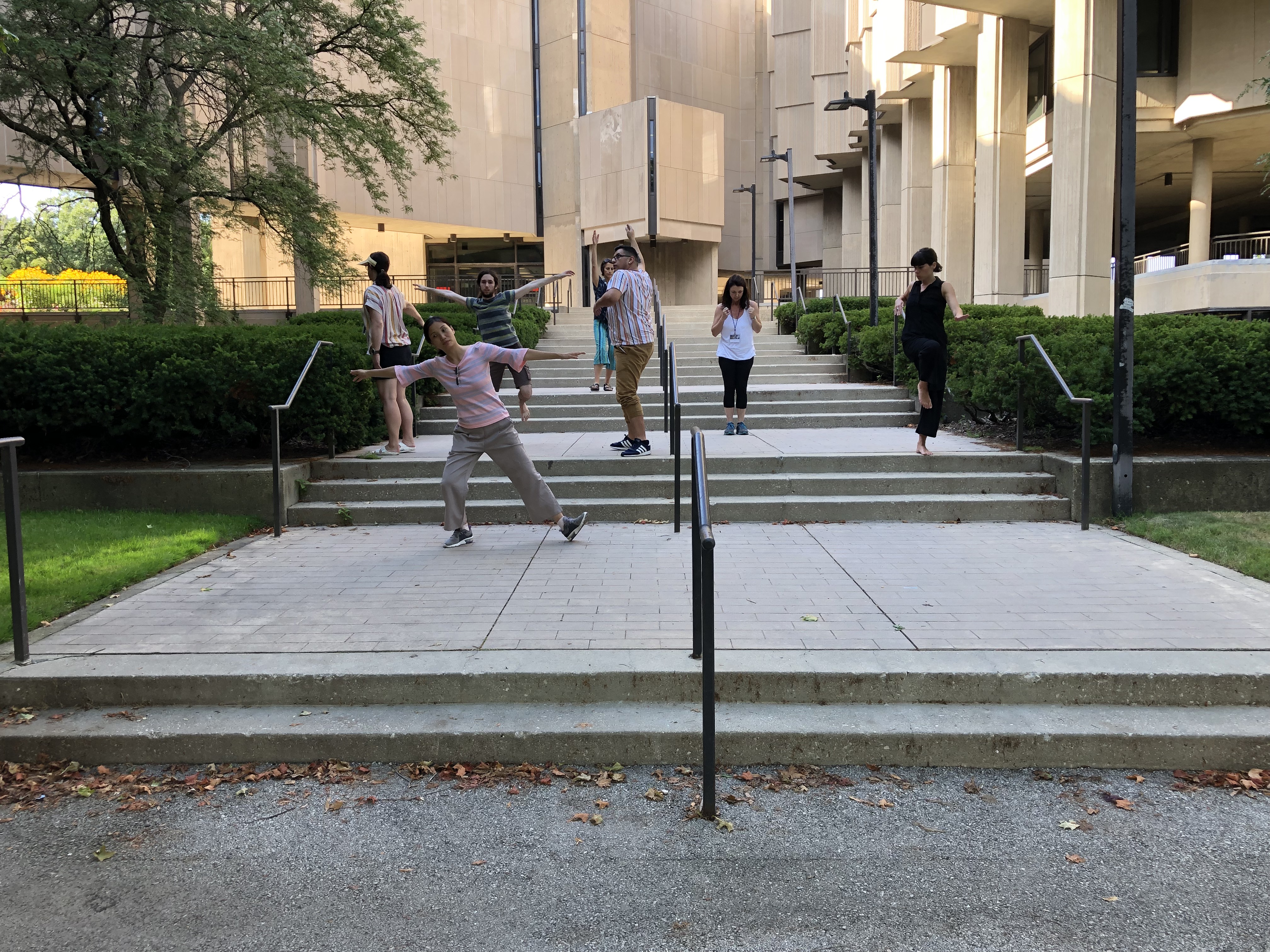 CHOREOGRAPHIC CONSTRUCTIONS FOR WELL-BEING
Montreal, Québec, Canada
As a cross-disciplinary exchange between a dancer/movement theorist, an urban designer and landscape architect,
this experiential workshop explores how the body can engage more deeply with the urban environment in support of
health and wellness. Architectural features of Édifice Wilder, particularly the wall-cutouts in some of the studios, will be
treated as equal participants in a guided movement exercise that calls attention to positive and negative encounters in
our environment that might shape how and why we move. How can we promote a renewed consciousness of the self
and greater embodiment in the face of increasing detachment from the body as we navigate the realities of our
technology driven fast-paced urban settings? Choreographic Constructions is concerned with how body, space and
time interact, an interest that is shared by the disciplines of design and dance. Reflecting upon these intersections, this
workshop recalls the work of movement studies pioneer Rudolf von Laban and his commitment to making dance and
movement accessible to all. Laban's background in architecture is evident especially through the practice of Space
Harmony in Laban Movement Analysis (LMA), a system he developed together with his collaborators. LMA reminds us
that the quality of human movement in our daily lives cannot be undervalued over mere quantity. Choreographic
Constructions addresses this issue by highlighting how the co-performance of human movement and designed
spaces in cities can have significant impacts on the health and well-being of its inhabitants.